A Volunteer's Tale - Jennifer Johnson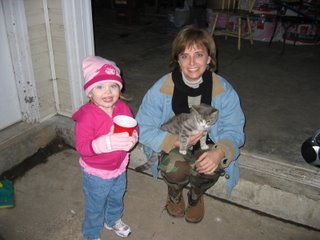 As we come to the close of the school year, it's important to take a moment to remember the children who were evacuated from their homes and who have now completed a school year in a new city, in a new school, with new friends. Sometimes we concentrate so hard on helping those that stayed in their rebuilding efforts, we forget that there are still so many who have not been able to return yet. This week, at my daughters' school, children such as these - children in a new place, a new school - were acknowledged with a very special award.
This award recognizes the struggles they have faced and overcome this year. I had the distinct honor of presenting them with this award. As I wrote down what I was to say, I travelled back in time to August 2005 and the tears flowed. I was forced to think about some things I have chosen to forget about for a while. But when you take a moment to reflect on where we were then and how far we have come, new, happier memories help in the healing process.
I'd like to share the words that I spoke to the kids at the school here in Huntsville, with you....
"I can't imagine what it was like the moment they decided to evacuate. What would you take with you? Important documents, family pictures, the family pet? What about the things that you did not have room for in your car – your baby scrapbook, your grandmother's cross-stitch sampler, your child's artwork from school? Where would you go and would you have enough gas to make it there?
On August 29, 2005, we all watched helplessly as Katrina devastated the Gulf Coast. For those who evacuated, it was a nightmare. With only enough clothing to last for three days, they sat in local hotels trying desperately to contact relatives they had left behind. For some, it was days before they knew for sure if their grandparents, their aunts and uncles were alive. Only then were they able to start worrying about their homes. What kind of damage was done? Would their belongings be safe until they could return to check on them?
We continued to watch the national coverage. We watched in disbelief as the levees broke. As the government reported on the damage that had been done, the possibility of evacuees returning diminished.
Then reality hit. What started out as a temporary solution – fleeing to a new city - had just become more permanent. With limited resources, it was time to start looking for jobs and housing. It was time to enroll the children in school.
I don't know about you, but I have never had to rely on complete strangers to provide me with food, clothing and housing. But if I ever do find myself in that situation, I hope that people like you will be there for me."